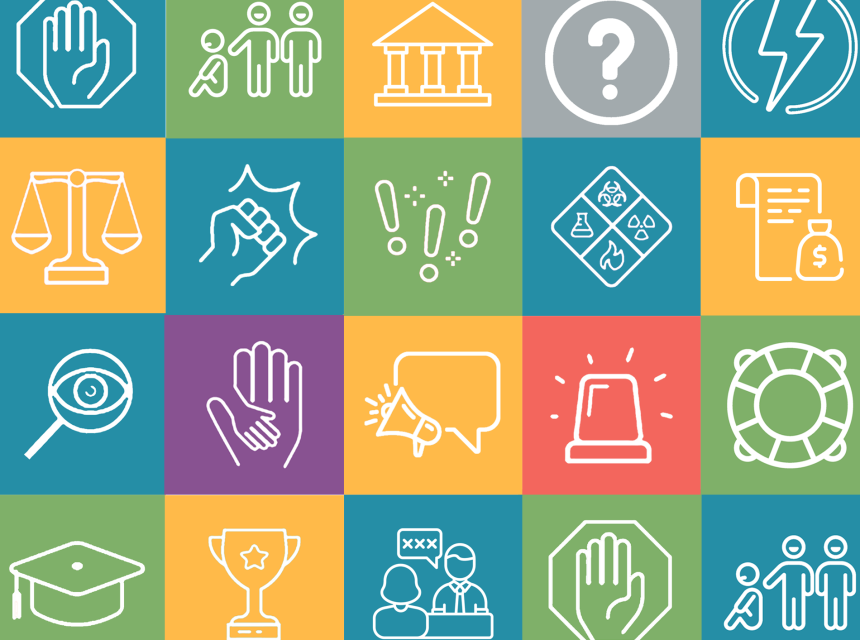 Reporting at Penn State
As a member of the Penn State community, you are encouraged to report potential issues and concerns and/or raise questions if you learn about something that might not be consistent with the Penn State Values.
Use our reporting guide to learn ways to report misconduct and ethical concerns.

Reporting Guide
Training
Training for employees is available on many of the above topics through the Office of Human Resources' Learning Resource Network at https://lrn.psu.edu/.
Abusive or intimidating behavior that creates a hostile or offensive environment
Cheating, plagiarism, or other violations of academic integrity
Discrimination
Financial misconduct (falsifying expense reports, embezzlement)
Research misconduct
Stealing, theft, or misuse of University services or resources
Substance abuse by an employee or student
Sexual assault, harassment, or misconduct
Violations of University policy and the Student Code of Conduct
Violations of local, state, federal, and international laws and regulations that you encounter during your work at the University
Violations of University environmental health and safety policies
AD88 – Code of Responsible Conduct


By-laws of The Pennsylvania State University (section 8.13)


HR91 – Conflict of Interest


RP06 – Disclosure and Management of Significant Financial Interests:


AD77 – Engaging in Outside Professional Activities (Conflict of Commitment)


AD85 – Sexual and/or Gender-Based Harassment and Misconduct (Including Sexual Harassment, Sexual Assault, Dating Violence, Domestic Violence, Stalking, and Related Inappropriate Conduct)


AD86 – Acceptance of Gifts and Entertainment


AD91 – Discrimination and Harassment and Related Inappropriate Conduct


SY01 - Environmental Health and Safety Policy


Centre County CAN HELP Line - 24-hour crisis hotline - 1-800-643-5432
Penn State Hotline
You may raise your concern anonymously if you choose to via the Penn State Hotline. And remember, Penn State policies protect you from retaliation if you raise a concern or ask a question in good faith.

Fraud, financial, or fiscal issues
NCAA Athletics violations or integrity concerns
Organizational issues or misconduct
Retaliation

Report other concerns to the relevant University office or outside agency.


Police and Emergency Responders